DBC 1st Professional Networking Event of 2018: Meet the DBC's Organizational Consultants
Tuesday, February 27, 2018
6:00 p.m.
At Season's 52 in Northpark (Dallas)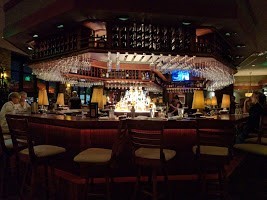 At our 1st Professional Networking Event of 2018, you'll have the opportunity to meet our Organizational Development consultants: Jon Mullican and Liz Landon. Jon and Liz are helping the DBC to look at ways to improve the club's organization and leadership. This networking event will give you the opportunity to ask questions of Jon and Liz and share your thoughts on how we can improve the DBC.
Meet your peers
Complimentary Appetizers
Casual Ambiance
Happy Hour Prices
Gift Card Drawing (Inner Circle Members)
Hosts: DBC Executive Committee

DBC is North Texas's premier professional networking association focused on MBA alumni from 27 renowned domestic and international MBA institutions.

If you want a printed name tag, please RSVP by Monday, February 26th at 5PM.
Please try to register in advance if you are planning to attend this event. On-site registration will be available.

When:
6:00PM - 8:30PM Tue 27 Feb 2018, Central timezone

Where:
Season's 52
8687 N. Central Expressway
Dallas, TX
[ Get Directions ]
RSVP Here...
Look Who's Coming:
Parimal Khatri
Spectrum Enterprise
Stephen Hevesi
Target Results consulting
Michael Latham
H.I.G. WhiteHorse
Erin Lomers
American Airlines
Bart Kohnhorst
LGS - Crestcom
Ravi Ramakrishnan
Kirk Otis
Exit Partners
Sherry Kneip
Dyron Jolly
Anand Varadarajan
EY
MARK Williams
BAYLOR MBA/DR PEPPER SNAPPLE
Donna Stiles
KW Commercial
Todd Sinelli
Awaken Astonishment
Valiant Stewart
Manuel Valencia
CONNECTIVE Agency
Barry Dull
UIS
KEVIN HAMILTON
AFM
Zachary Perry
Safety-Kleen
Paul Thomas
Thomas & Associates
Susan Loveless
Andrew Kelley
Awesopotamus
Rayna Handelman
Energient Inc
Ron Bose
UT Dallas
Devin Ellis
Omnitracs & Entrepreneur Things
Andrea Leon
Santander Group, Aquanima
Siddhant Sahu
Automation Anywhere Inc.
Mona Tsangueu
Baylor Scott &White
Sean Schoenmakers
ActionCOACH
Kirk Coyne
B2B CFO
Derrick Wilson
...
Derrick Wilson
...
Aaron Henry
The University of Texas at Dallas
Brett Laquercia
Language testing International
Paul Marshall
Lattice Engines
Courtney Marie Smiter
Duke University, The Fuqua School of Business
Jeff Lipschultz
A-List Solutions
John Martin
University of Texas at Dallas
Luis Araiza
Sendero Consulting
Cesar Hubbard
Brand Consulting
Chris Miller
Citi
Jeffrey Goodman
SmartShield
Joe Mikita
RGP
Jonny Baker
KHA Accountants, PLLC
Laura Chang
ISC2 DFW
Camille Wingo
Frito-Lay
Jennifer Lipschultz
Seeking the next big thing
Suzanne Farhoud
AT&T
Rocky Garza
Rocky Garza
Will Healy
Prose 4 SEO
Jeff Kort
Munn & Morris Financial Advisors
Dale Hintz
Excellent Cultures
Bob Callahan
Self Employed
Kimberly cunov
Barry Thomason
DXC Technology
Ron Berggren
Scott McGarvey
Scott McGarvey Associates
Liane Latshaw
Verizon
John Page
Quick Search
Eli Mercer
Tarrent County College
Eli Mercer
Tarrent County College
Lon Loveless
AT&T
Seth Moore
Condon Tobin Sladek Thornton
Jeffrey Parrish
Value Inc.
John Helms
Hilltop Securities
George Stutzmann
Delek US
Kirk Coyne
B2B CFO
Victor Bloede
Transitus Capital
Melissa Krenek
Krenek Consulting
Michelle Miller
Fmeral Consulting
Will Taylor
Deloitte
John Mannhaupt
Brakke Consulting Inc.
Kirk Otis
Exit Partners
Christopher Lombardi
CJL Holdings
Chuck Blumenschein
..
Raj Kumar
Michael Sieve

Sean Lofgren
The Nexus of Power
Raj Devasigamani
Cox School of Business
Dean Lampman
American Heart Association
Donna Stiles
KW Commercial
Mark Howard
Momentum Wealth Strategies
Kiren Devereux
Frito Lay
Kim Hernandez
Noll Saunders
Euler Hermes North America
Rebecca Bogie
Stephen Hevesi
Target Results consulting
Mark Heuchert
Mark Heuchert
Paul Shultz
Fiona Hunter
University of Texas at Dallas
Priya Dwarakanath
Frito-Lay
Matt Horine
Veryable
Joe Doye
Westin Company
Megan Kum
Frito-Lay
Julie Goodman
Goodman Global Consulting
Akin Ajunwon
HRM Investment & Assets Ltd
Katrina Gawen
Daniel Kim
ISC2 DFW
Ravi Achukola
Dell Technologies
Larry Taylor
Triumph Group
Dean Davis
Marienplatz WM
John Helms
Hilltop Securities
Ray Estep
RJE Partners
Richard Hunter
na
Don Nebhan
Business Bionix
Michael Fant
FANT Holdings Limited
Anna Hay
ANNA HAY CONSULTING
David Cary
Marissa Burres
Stream
Scott Smaistrla
WTP Advisors
Emily Hija Emily Hija
Sloane Meads Sloane Meads
Ashlyn Helm Ashlyn Helm
Allyson Ucci Allyson Ucci
Leah Coe Leah Coe
Peyton Didi Peyton Didi
ScottmumRH ScottmumRH
Scottmum
Liv Vis Liv Vis
Ashlyn Helm Ashlyn Helm
Peyton Dea Peyton Dea
Leah Cech Leah Cech
Emmy Beda Emmy Beda
Daisy Chun Daisy Chun
Allyson Uoa Allyson Uoa
... a total of 123 guests.
Note: to opt out from this list please sign in, go to My Account and change your preferences under My RSVPs.