2018 Economic Forecast
March 2, 2018
11:30-1:30pm
Iron Cactus Mexican Grill and Margarita Bar
1520 Main Street Private Room
Dallas, TX 75201
Last February, Robert Aliber, Professor Emeritus of International Economics and Finance at The University of Chicago Booth School of Business, explained how international trade led to the rise of populism and President Trump.

Prof. Aliber, once again, uncensored, pulled no punches last February at our 2017 Economic Forecast. He explained how a Queens born real estate developer used his Manhattan real estate sales shtick to ride a waive of populism driven largely by the effect of U.S. trade imbalances on underemployment in rust belt states ruthlessly copying the message of U.S. Senator and University of Chicago alumnus, Bernie Sanders, AB'64. Prof Aliber also explained the 'Trump bump' since the election as a result of the global liquidity glut seeking safety and yield in U.S. financial markets. Will the U.S. economy finally reach 4% growth as the republicans claim? Will the China real estate and credit bubble ever burst? Will oil prices rise again over $100/barrel? Will the Houston club ever invite Prof Aliber back to speak? Ask Prof. Aliber about his current views on the future of stocks, oil or gold or your personal finance decisions.

Program
11:30 am - Registration begins
12 noon - Mexican buffet lunch served
12:30 pm - Prof Aliber Remarks and Q&A

Cost:
$65

CLICK HERE TO REGISTER

Speaker Profile
Robert Z. Aliber, Professor Emeritus of International Economics and Finance, The University of Chicago Booth School of Business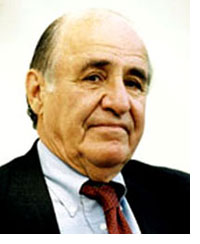 Professor Robert Z. Aliber received the Ph.D degree from Yale University in 1962 and Bachelors Degrees from Williams College and Cambridge University. He joined the faculty of The University of Chicago Booth School of Business in 1965 and retired in 2004 as Professor of International Economics and Finance. Prior to joining the Chicago faculty, Aliber was Senior Economic Advisor, Agency for International Development, Department of State. Bob was the National Westminster Professor of International Finance at the London Business School in 1978, the Bundesbank Professor at the Free University of Berlin in 1997, and a visiting Professor at the Amos Tuck School of Business at Dartmouth College in the early 1980s and again in 2004; he was also a visiting professor at Brandeis University and at Williams College. Bob was the Houblon-Norman fellow at the Bank of England in 1996. He was the JPMorgan Prize Fellow at the American Academy in Berlin in 2003 and a visiting scholar at the Woodrow Wilson Center for International Scholars in Washington in 2004. Aliber has been a visiting scholar at the Federal Reserve Bank of San Francisco, and a consultant to the World Bank and the International Monetary Fund and a various think tanks in Washington and London.

Aliber has written extensively about international financial issues, including changes in cross-border capital flows and changes in currency values; and the efficiency of the currency market. His publications include THE NEW INTERNATIONAL MONEY GAME (7th edition 2010), THE MULTINATIONAL PARADIGM (1995) and MANIAS, PANICS, AND CRASHES (6th edition 2010). In the early 1980s, he wrote a book on personal finance, YOUR MONEY AND YOUR LIFE (re-published by Stanford University Press 2010). He is the co-editor of a collection of papers and reports that were published prior to the Iceland's financial crisis.

Bob founded Dorchester Capital Management in 1991, which provides asset management and financial planning service.