DBC October Professional Networking Event - Renaissance Dallas Richardson Hotel
The Dallas Business Club invites you to the October Professional Networking Event hosted by Wharton and Tepper on Wednesday, October 25, 2017.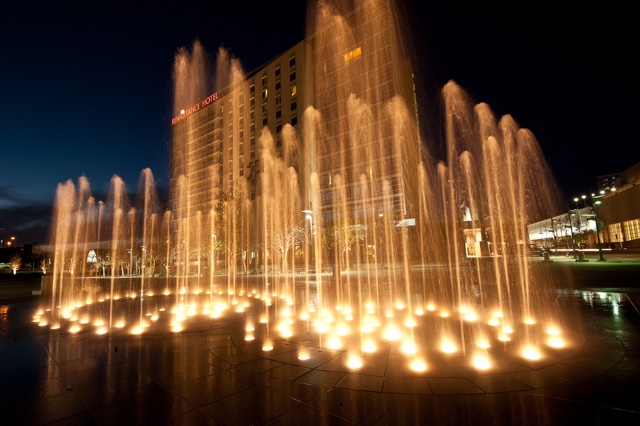 Please join DBC for an opportunity to network with your peers on Wednesday, October 25th from 6:00PM to 8:30PM. Set in the north Dallas suburb of Richardson, at the heart of Telecom Corridor the Renaissance Dallas Richardson Hotel offers a stylish, modern stay right next to the Charles W. Eisemann Center for Performing Arts, Galatyn Park Plaza, City Line and the DART Light Rail. Perfect for both business and leisure travel, this Richardson hotel offers accommodations that are simple modern in design and big on amenities. Your hosts from Wharton and Tepper have reserved a private room for DBC. Light snacks will be provided and there will be a cash bar with drink specials on beer and wine. Complimentary garage parking is included. See you at the event!

Inner Circle Members (formerly known as Platinum Members) will be eligible door prizes. There will be a drawing during the event for restaurant gift cards. Be sure to join or renew your Dallas Business Club membership before the event to be eligible.

DBC is North Texas's premier professional networking association focused on MBA alumni from 27 renowned domestic and international MBA institutions. One of the benefits of being an inner circle member is that you may participate in our raffle for awesome prizes! You can find out more information on Dallas Business Club Membership via the following link: http://www.dallasbusinessclub.com/memsub.html.

If you want a printed name tag, please RSVP by Monday, October 23rd at 5PM.
Please try to register in advance if you are planning to attend this event. On-site registration will be available.

When:
5:00PM - 7:30PM Wed 25 Oct 2017 ( Timezone: Central )

Where:
Renaissance Dallas Richardson Hotel
900 E Lookout Drive
Richardson, Texas 75082
[ Get Directions ]
RSVP Here...
Look Who's Coming:
Kirk Otis
Ruchie Bednarczyk
Pepsico
Suresh Sethi
UTD
Anthony Bednarczyk
Fujitsu
Fred Brown
TIG
Tisha Vaidya
Pratiksha Jewelry
Amy McGregor
Federal Reserve Bank of Dallas
Stuart Page
Great Road Capital
Ron Bose
University of Texas at Dallas
Brett Laquercia
Language Testing International
Susan Loveless
UT Southwestern
Joy DAmore
JMD Talent Strategies
Barry Thomason
DXC Technology
Jon Langbert
Plüsh Suites
Jeff Kort
Munn & Morris Financial Advisors
Scott McGarvey
Scott McGarvey Associates
Kevin Hamilton
AFM
Hank Mulvihill
Smith Anglin Financial
Tedrick Wright
Stryker Communications
Devin Ellis
Devin Ellis
Markus Bucher
Markus Bucher
Viker Investments
Anand Varadarajan
Sabre
Henry Harrison
Main Page SEO
Ryan Holm
Jackson Walker LLP
Bart Kohnhorst
LGS-Crestcom
Aaron Henry
UT Dallas
John Martin
UT Dallas
Geoff Green
Netvious
Brandon Brumfield
Len Chavez
Verizon / IU
Noll Saunders
Allianz
George Stutzmann
Delek US
Mark Canty
AT&T
Richard Anastasi
CareGiver Guide
Morgan Cummings
Southwest Airlines
Brett Laquercia
Language Testing International
Bruce Bishop
Ashwini Gokhale
Wharton
Ash Warren
Tepper
William Laforet
Financial Services Consultant
Michael Yatvin
Provence Catering
Casey Burgess
City of Wilmer
Tiffany Steetle
Provence Hospitality Group
Stephanie Greer

Lon Loveless
AT&T
Rodney Johnson
Joe Mikita
RGP
Brandon Brumfield
John MacDonald
CFO Consultant
Charlotte Arnold
Academic Partnerships
Mark Tenenbaum
Academic Partnerships
Chad Rose
Merrill Lynch
YIYING XU
Duke
nevin zhu
open source
Chris Ndikumana
Gm Financial
Landon Green
University Of Southern California
George Stutzmann
Delek US
C. F. Sandy Pofahl
Commonwealth Companies
Leo M. Crowley
Crowley properties International
Ravi Ramakrishnan
Tekstra
Jon Buchwald
Market-Partners
Jennifer Taylor
LGS-Crestcom
Fred Gabbard
Gabbard-Cornell Consulting Group
Lisanne Glew
UBS Financial Services
Vaishu Rajagopalan
UBS Financial Services
Nikhil Patel
Citi Group
David Martinez
Accudyne Industries, LLC
Zachary Perry
Safety-Kleen
Henry Harrison
Markus Bucher
Viker Investments
Andreas Vietor
First Gleneden Advisors
Elizabeth Garrett
Wolters Kluwer
Joh Mannhaupt
Brakke Consulting
Don Wilks
The Global Community for Education
Wes Anderson
Davita Medical Group
Dagmar Fleming
Unlock Your Success
Armin Paya
Eltek
Mark Howard
Momentum Wealth Stategies
Bob Dill
Board Member
Liz Landon
Landon Consulting
Sarah Alyea
Hewlett Packard Enterprise
William Taylor
Deloitte
Paul Thomas
Robert Ikard
Wareing Enterprises LLC
Barry Dull
Foundry Club/UIS
Lynn Dunlalp-Regan
Eugene Cherkesov
Excellence Dynamics Consulting Corp.
Armin Paya
Eltek
Armin Paya
Eltek
Jeff Goodman
SmartShield
Garrett Webb
henry harrison
Main Page SEO
Bernard Gilliard
StratPlan
Michael Fant
FANTM Holdings Limited
Ray Estep
RJE Partners
Raj Swami
RS
Jeff Hassman
Excentus
Heather Jones
UT Southwestern Medical Center
Marianne Strobel
Strobel and Associates, LLC
Lawrence Kersten
New Century Ecommerce, LLC
Sandra Sneed
David Cary
Palo Alto
Robert Dunnigan
EY
Will Healy
Prose 4 SEO
Sean Lofgren
BBBS Board
Tina O'Banion
ChurchillTerry
Moez Dharani
Red Hat
Melissa Krenek
Krenek Consulting
Rick Glew
MarketSuite
Rick Glew
MarketSuite
Marcelo Quiroga
Eureka Woodworks
Melissa Krenek
Krenek Consulting
engladparWD engladparWD
engladpar
Maci Dubel Maci Dubel
Peyton Dube Peyton Dube
Macie Diggs Macie Diggs
Zoe Ala Zoe Ala
... a total of 118 guests.
Note: to opt out from this list please sign in, go to My Account and change your preferences under My RSVPs.