Kellogg Leadership Symposium: Grow Bravely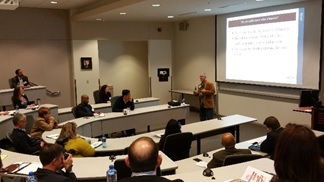 It is time to register for the 11th Annual Kellogg Leadership Symposium. It is a premier event sponsored by the Northwestern University Kellogg School of Management and the DFW Kellogg Network. The annual event brings top of the line speakers that include CEOs, successful senior executives, book authors, and career advisors to help you advance your leadership skills and career.

The symposium has put together their best ever agenda that guarantees a productive and inspiring day of learning and networking. You will get an opportunity to meet and network with not only the speakers but also hundreds of professionals who attend the event every year.

The event has sold out for the past 8 years. So, do not wait until it is too late.

This year's speakers include:
Michelle Buck, professor, Kellogg School of Management – Leading with Vision and Purpose: What is your Story?
Dr. Joy Macci, CEO of Joy of Sports – Ignite the "Inner Winner" in You
Leandre Johns, General Manager, UBER - Entrepreneurial Leadership – 5 Key Traits
Christopher Roberts - President, Cargill - Bravely Growing Leadership - 7 Key Traits
Leadership Assessment by Diana Gats, Growth Strategy & Business Advisor
And many more
Date
Saturday, January 28, 2017
Time
8AM - 2:30PM
Location
Jindal School of Management, Univeristy of Texas at Dallas Campus
800 West Campbell Road, Richardson, TX 75080
Registration
http://www.kelloggsymposium.com/

.